Would you know what to do in a cardiac, breathing or first aid emergency? The right answer could help you save a life. With a hands-on learning emphasis, our CPR/AED courses give you the skills necessary to save a life. All course options are taught by an AHA (American Heart Association) certified instructor and are available in classroom and blended learning formats. Certification is issued upon successful completion of the course. We offer classes for businesses and organizations with group sizes ranging from 1-8 individuals.
The CPR Class fee is $55.
Basic Life Support Class (BLS) fee is $45.
First Aid Class fee is $55.
All classes provide extensive hands on training and certification in the following areas: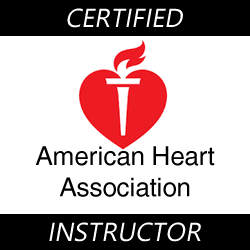 classes available in
English & Spanish